From the North
Take the Garden State Parkway South to Exit 98. Follow Route 34 South to Route 35 South. Cross the Manasquan Inlet Bridge and stay in the left lane. Make the left jug handle turn a 1/4 mile after the Exxon. Complete the turn and head North on Route 35 and make a right onto Broadway (last right before going over bridge). Take Broadway all the way to the end and follow the right turn lane and make a right onto Ocean Avenue. Stay on Ocean Ave and approximately 1/2 mile up on your left will be the Aquarium parking lot and a bit further down is the Jenkinson's Amusement Park parking lot.
From the South
Take the Garden State Parkway North to Exit 90. Turn right at the exit ramp and follow to Brick Blvd (CR 549) and make a left. Merge right onto Route 70 following signs for Route 88. Turn right onto Route 88 East and continue east until Route 88 leads into Route 35 North in Point Pleasant Beach. Turn right on Arnold Avenue (by the train station) and head east to Ocean Avenue. At the light on the corner of Ocean and Arnold make a left. The Aquarium parking lot is two blocks up on your right. (Across the street from Perk's Cafe).
From the West
Take 195 East to Exit 35. Continue on Route 34 South and follow above directions from North beginning from Route 34.
From the East
Call the Coast Guard for assistance!
Parking
Jenkinson's Boardwalk has five large parking lots for your convenience. Pay one low price for all day parking — no running back to feed the meter. The northernmost parking lot is located at the Manasquan River Inlet and is conveniently located by the bath house and Inlet Restaurant. South of the Inlet Parking Lot is the Aquarium Parking Lot, which is next to the Aquarium and Pavilion Restaurant and Arcade. Frank's Fun Center has a parking facility centrally located to all the activities on the Boardwalk. The parking lot at the Jenkinson's Amusement Park is located next to the Jenkinson's South Arcade and the amusement park. Jenkinson's also operates a large parking lot located at the Jenkinson's South Beach and Bath House as well as a smaller parking lot located at 804 Ocean Avenue next to Lighthouse Point Miniature Golf. There are several municipal and other private lots for parking as well. Please be advised that parking lots can fill up quickly during the busy summer months, so start your day early!
Public Transportation
Jenkinson's Boardwalk is conveniently located by car, train or bus. Only minutes off the GSP and Route 195. Just an hour south of NYC, an hour north of AC and about an hour and 15 minutes from Philly. For complete mass transit info go to www.njtransit.com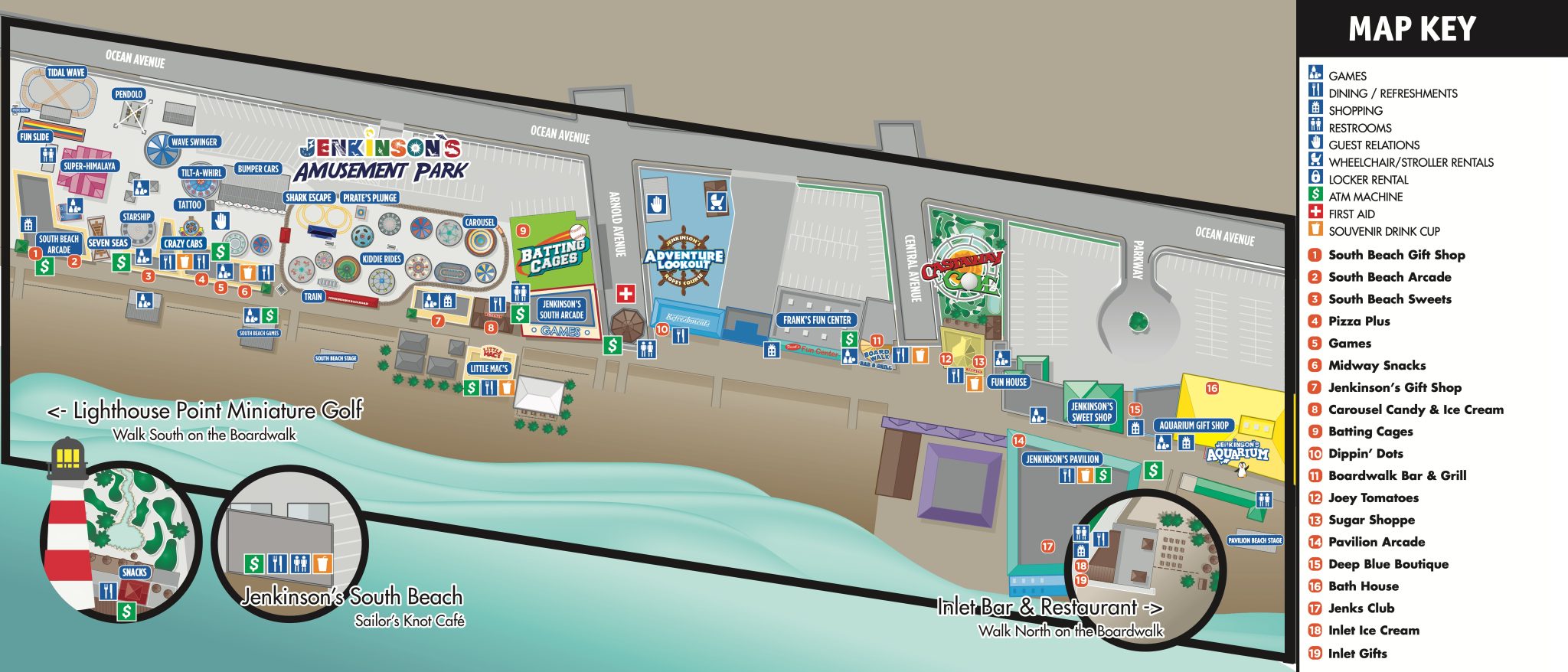 Tidal Wave
The Tidal Wave is beach and surf themed family spinning roller coaster which is inspired by our iconic beach culture. Credits: 12 | Height: 48" or over
view
Pendolo
One of our most popular rides, the Pendolo swings back and forth in a pendulum motion while rotating in a circular motion. Credits: 11 | Height: 48" or over.
view
Wave Swinger
Offers amazing views of the boardwalk, and the Amusement Park while the riders rise high up into the sky and spun in a circular motion. Credits: 8 | Height: >44" 38-44" with adult.
view
Super Himalaya
Accelerates in a circular motion around the track both forwards and backwards while our Jenkinson's DJ is playing today's most popular hits. Credits: 8 | Height: >50" 42-50"with adult
view
Tilt-A-Whirl
This is one of the most perfect boardwalk amusement park rides for all ages! Spin back and forth in your individual car while the entire platform turns. Credits: 7 | Height: 46" unless with adult
view
Big Bumper Cars
A true amusement park staple - drive around in our classic Bumper Cars! Each car can accommodate two riders. Credits: 8 | Height: 52" or over.
view
Starship 3000
The Starship 3000 uses centrifugal forces and speed to float the passengers off of the floor, giving them a feeling of weightlessness. Credits: 9 | Height: >48" 42-48" with adult
view
Moby Dick
Sit on the edge of your seat in this thrilling, fast-pace ride that brings you high in the sky and then takes you back down again, just as fast! Credits: 9 | Height >48", 42-48" with adult.
view
South Beach Arcade
South Beach Arcade, featuring Jenkinson's 7D Dark Ride, is open from February through October.
view
Crazy Cabs
Our Crazy Cabs ride offers a thrilling spinning experience for our guests! Credits: 8 | Height: >48", 36-48" with adult.
view
Shark Escape
The Shark Escape is a SBF Visa Family double vortex roller coaster that can hold up to 20 persons at a time with a total number of five cars. Credits: 12 | Over 48", 36"-48" with adult.
view
Pirate's Plunge
This thrill ride rotates 360° and offers amazing views of the entire ride park as well as the boardwalk and the beach! Credits 8 | Height >47", 42-47" with adult.
view
Kiddie Rides
These rides are great "first rides" for any child. Specifically designed for small children, these slower paced rides stay level and move in a circular motion.
view
Train
Adults and kids can enjoy this antique-style train that slowly travels around the perimeter of the kiddie rides twice and offers amazing views of the Amusement Park. Children under three get to ride for free! Credits 5 | Height: 42" unless with adult (children under 3 free).
view
Carousel
The Jenkinson's Carousel has both moving horses and benches to sit on, and provides an enjoyable nostalgic experience for both children and adults alike. Credits: 4 | Height: 42" unless with adult
view
Alligators
The Alligators are a perfect "first ride" for any child. It is a slower paced ride and will carry you in a circular motion around the track. Credits: 4 | Height: 30-48".
view
Batting Cages
Come practice your swing in our batting cage. Watch out for those fast balls
view
South Arcade
Jenkinson's South Arcade is open daily, year-round. Videos Games, Slot Machines, Skee Ball, Basketball, Cranes, and more
view
Little Mac's
You might need a stroke of luck if you want to grab a seat at this boardwalk hotspot, the food and the outdoor patio are just that awesome.
view
Lighthouse Point Mini Golf Concessions
Enjoy classic summer boardwalk favorites that will surely bring nostalgia back to your taste buds!
view
Inlet Bar & Restaurant
Sit back, relax and enjoy the ocean views while dining right on the sand.
view
Adventure Lookout Rope Course
Jenkinson's is poud to announce the new Adventure Lookout Ropes Course! There are two courses: One for those over 48 inches tall, and one for kids under 48 inches (Sky Tykes).
view
Frank's Fun Center
Frank's Fun Center is open daily, year-round. Videos Games, Slot Machines, Skee Ball, Basketball, Cranes, and more
view
Castaway Cove Mini Golf
Choose from the shipwreck bay course which takes you through caves, and past thunderous waterfalls, or head to the Crow's nest, which travels to the top of the cove with amazing aerial views of waterfalls and plant life.
view
Fun House
A favorite thrilling adventure for all ages! Find your way through a maze of mirrors, glowing lights, twists and turns. Filled with illusions, tricks and distorted mirrors!
view
Sweet Shop
We offer a wide variety of tempting treats, salt water taffy, homemade fudge, and more. Jenkinson's Sweet Shop is open year round with gift baskets for all occasions and online shopping available.
view
Jenkinson's Pavilion
Pavilion Restaurant is a full service dining facility with a diverse menu and friendly staff. Also in the Pavilion Complex is our fast food counter, which has all of your boardwalk favorites including pizza, burgers, cheesesteaks, and more.
view
Jenkinson's Aquarium
Exhibits such as Atlantic sharks, Pacific sharks, coral reefs, penguins, and seals give you the opportunity to get up close to animals from around the globe. Another attraction, the touch tank, allows visitors to touch live animals ranging from a sea star to a sting ray!
view
Amusement Park
The Jenkinson's Amusement Park hosts 27 rides, enjoyed by guests of all ages. Visit below for a full list of information, scheduling, and specials!
view
Jenkinson's South Beach
Relax in the sun while listening to the sound of the waves of the Atlantic Ocean hitting the shore. Jenkinson's Beach is open daily, weather permitting, from Memorial Day Weekend through Labor Day.
view
Fun Slide
Over 42" , 32"-42" with adult Credits: 8 Credits
view