Arribada means arrival. Every year thousands of Kemp's Ridley sea turtles arrive at the same location: Rancho Nuevo, Mexico. When the turtles arrive, so does a group of very special people: volunteers. These volunteers come from all over the world to help save this endangered species. This year Cindy Claus and Katie Gillis from Jenkinson's Aquarium were among them.
The Kemp's Ridley sea turtle is the most endangered of the seven species of sea turtles. Jenkinson's Aquarium has a visually impaired Kemp's Ridley named Ace who is an ambassador for her wild cousins. During last year's AZA conference, Cindy inquired as to how the aquarium could help these animals. Through a program with the Gladys Porter Zoo in Brownsville, Texas, Cindy and Katie were able to travel to Rancho Nuevo and help zoo staff and Mexican government officials with the Kemp's Ridley turtle count.
Accommodations at Rancho Nuevo weren't exactly roughing it, but not the Holiday Inn either. There were a few (ok, lots of) bugs and unusual smells, but there was also the sound of the ocean and stars for miles and miles. Mornings were early. Sometimes they were as early as 3:00 am, but hey, if you want to count baby turtles you need to get there before the other wildlife does. There were three sections of beach that had to be counted and moved around to confuse predators like the mapache (raccoon). There was paperwork that had to be filled out, which was difficult at times when not everyone speaks fluent Spanish.
On one of the first days at Rancho Nuevo, Cindy and Katie took an oil spill class conducted by the Mexican officials. Fortunately, they never saw oil at their site, but they wondered how many of the babies that they saw crawling down the beach and into the ocean would be affected by this latest disaster. Despite what was going on in the gulf, the females kept coming to lay their eggs and Katie witnessed one of them doing just that.
It wasn't all turtle counting and extreme heat! There were some fiestas mixed in there with tacos and cervasa. There were a lot of tortillas with beans for breakfast, beans for lunch, and beans for dinner. There was swimming in the local stream at the end of the day.
After 13 days, it was time to go home. Cindy and Katie are more fluent in Spanish now and have amazing pictures of their adventure in Rancho Nuevo. Not only did they learn more about the Kemp's Ridley sea turtle, but they also made a difference.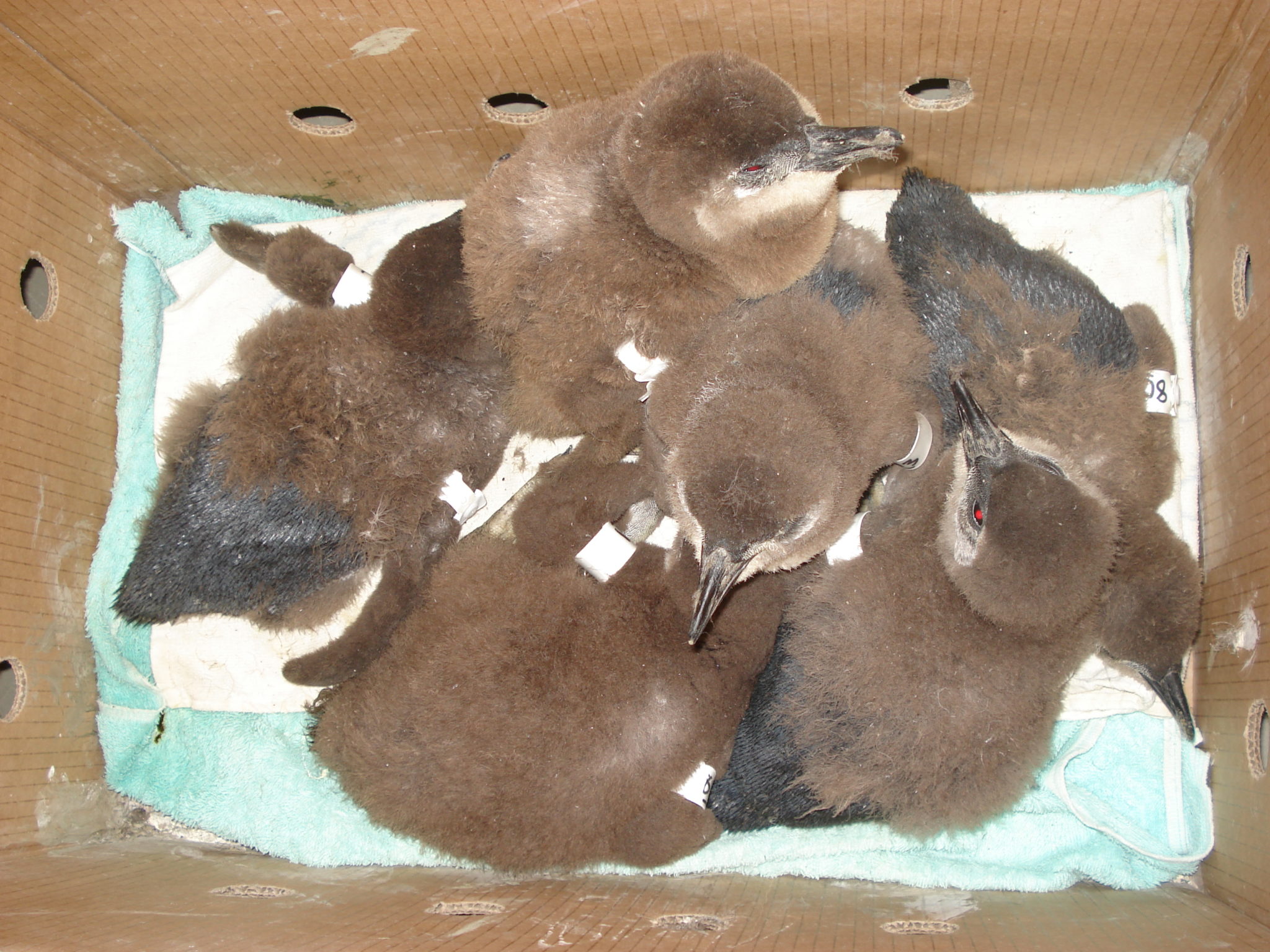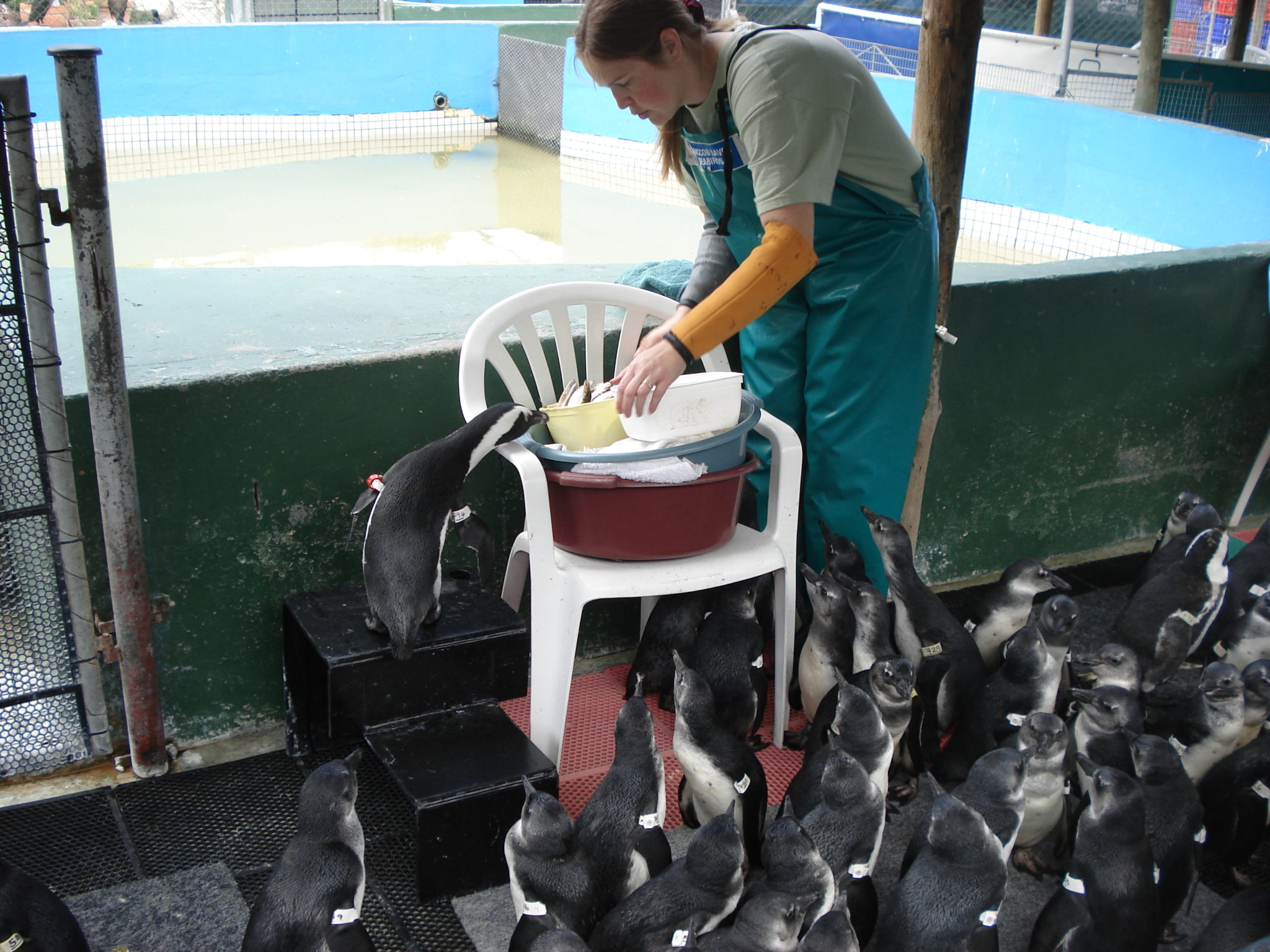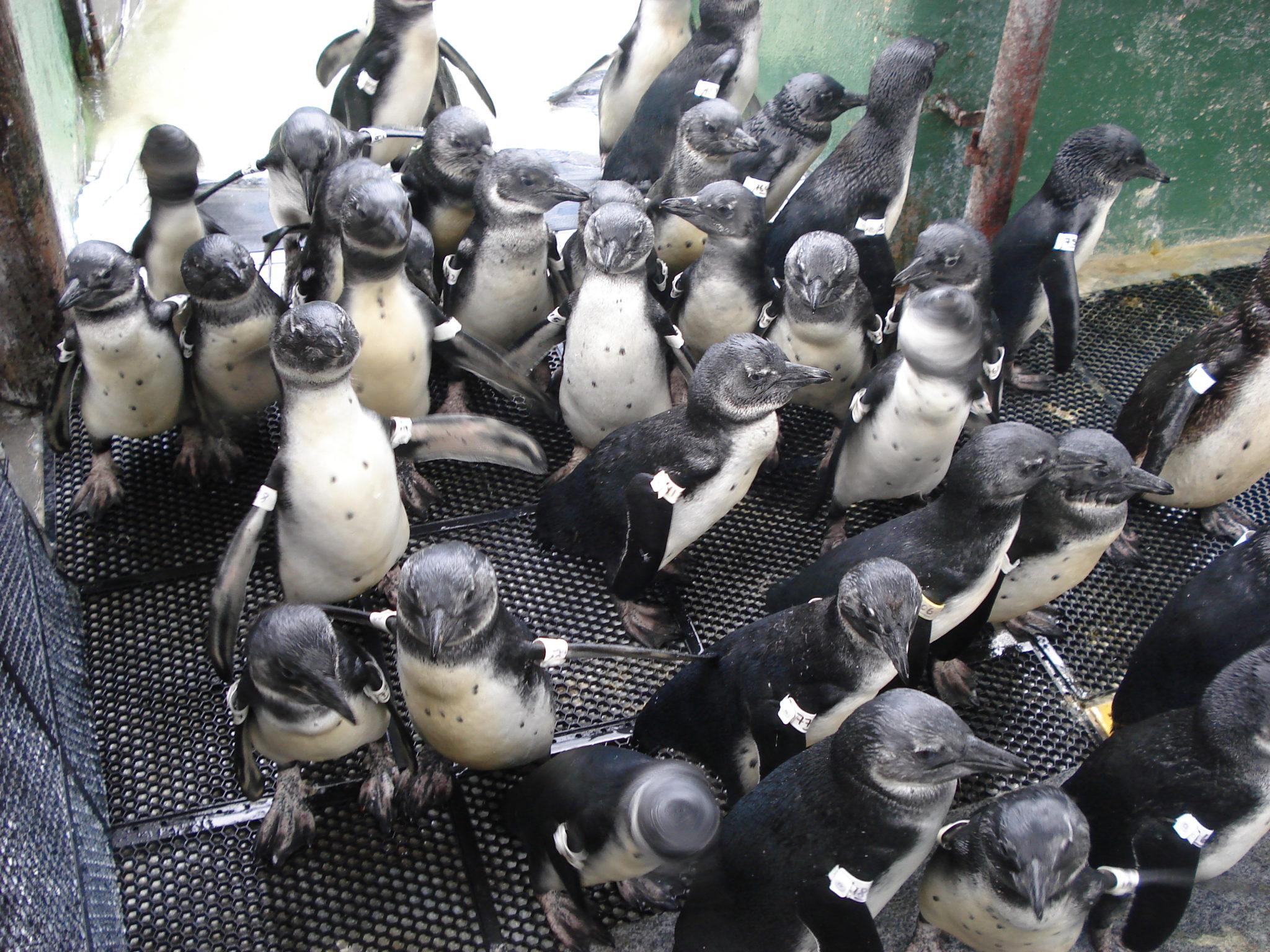 On November 16, 2010, an email went out from the South African Foundation for the Conservation of Coastal Birds (SANCCOB) calling for help with a large group of African penguin chicks. Laura Graziano and Angela Pizza from Jenkinson's Aquarium answered that call. This wasn't going to be a sight-seeing trip; this was going to be hard work. After a long trip from New Jersey to South Africa, they were going to have to hit the ground running, work long hours, and help hand rear over 460 abandoned chicks.
They are called the "Christmas Chicks". Every year around this time chicks are abandoned. Parents are getting ready to molt and they need to fatten up for this process; unfortunately if the chicks aren't fledged, they are abandoned. Because the African penguin is listed as endangered, losing even just one is a tragedy. The Christmas Chicks were collected and brought to SANCCOB for a little help and then returned to the wild.
When Jenkinson's Aquarium received the request, Cindy Claus, Director, was immediately committed to sending two staff members. Laura and Angela have 25 years of combined experience with animal care, diet, and veterinary assistance. They had also met with SANCCOB representatives on their recent visit to the aquarium.
So what did Laura and Angela have to say about their trip? Laura said, "I've worked at Jenkinson's Aquarium for 15 years and I can't believe it's taken me that long to experience something as rewarding as volunteering at SANCCOB. We are lucky to have the support of the aquarium to get involved with conservation. Through the aquarium, we've been able to get involved with local projects such as SEANET and horseshoe crab census surveying in Delaware Bay. The SANCCOB experience tops it all!"
And Angela, "Roundtrip flight to South Africa $1300, guesthouse accommodations $150, volunteer experience with penguin chicks at SANCCOB…priceless!"
According to Laura and Angela: "If Jenkinson's Aquarium, a small privately owned facility that receives no outside funding, can make the commitment to send staff to help at SANCCOB, we think other facilities could make it happen too. We think staff will get far more out of the experience than sending them to any conference."
Well said.