Perky's Pumpkin Derby
October 28, 2018 @ 2:00 pm

-

3:00 pm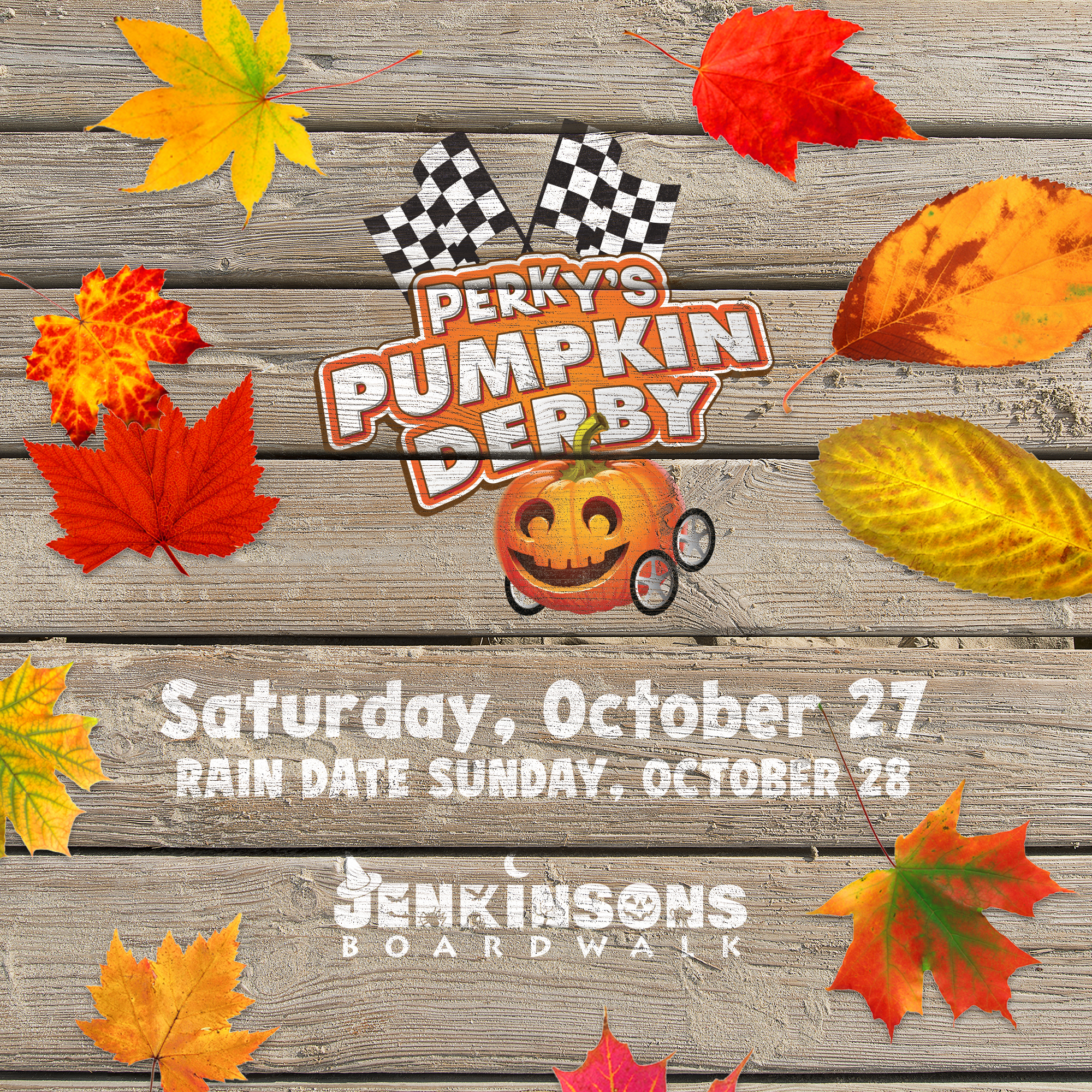 Due to the predicted forecast for Saturday, October 27th, all outdoor Boo at the Boardwalk activities have been cancelled. Jenkinson's Aquarium will still have their Underwater Pumpkin Carving at 2:30pm on Saturday as well as limited trick-or-treat stops and crafts.
Perky's Pumpkin Derby has been moved to Sunday, October 28th. We look forward to the sun coming out on Sunday for our last day of Boo at the Boardwalk from 12-4pm, hope to see you there!
It's pumpkin vs pumpkin in our annual Perky's Pumpkin Derby on Saturday, October 27th!
Date: Saturday, October 27th, Rain Date Sunday, October 28th
Check-In begins at 12:30pm & closes at 1:45pm
Race heats begin at 2pm
Two weight categories: under 12 lbs and over 12 lbs
To Pre-register, please email information@jenkinsons.com (Subject line: Perky's Pumpkin Derby)
Rules
1. You must utilize a real pumpkin in your design.
2. All design elements must be family friendly.
3. The full size of your pumpkin craft may not exceed 18 inches in diameter and 25 lbs in weight.
4. Wheels must go COMPLETELY THROUGH the pumpkin.
5. No motorization or fire power, let gravity do the work.
6. If you attach your pumpkin to a pre-fabricated chassis of any kind, you will be placed in a separate category.
Good to Know
1. Pumpkins will be racing side by side and therefore a little "bumper car" action may take place during race heats. There will be no penalties for such instances.
2. Prizes will be awarded for race winners as well as for creativity in design.
3. There will be two weight classes; under 12 lbs total craft weight and over 12 lbs total craft weight.
4. Race divisions and heats will be decided at check in when pumpkin crafts are weighed in.
5. Multiple entries per family (one per child) is allowed.
Related Events