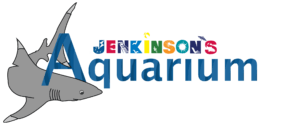 Welcome Back!
We are excited to have you visit!  Before you arrive please review our re-opening procedures and policies. The safety of our guests, staff and animals are our highest priority. We appreciate your patience as we navigate unchartered waters. We have made a few changes you should know about in advance of your visit.
Limited Occupancy: We will be limiting the number of guests in the aquarium at one time.
Tickets: Tickets will be available for purchase at Guest Services. The line to enter the aquarium will begin at the front doors and extend toward the right. Entry into the aquarium will be managed by staff, hours will be 10am-10pm every day.  All visitors are expected to monitor their own health. If you are experiencing a sore throat, cough, shortness of breath, fever or just don't feel well please stay home for the safety of our animals, staff and other guests.
High Risk and/or Elderly Visitors: The aquarium has set aside Mondays & Thursdays from 9am to 10am for those guests who are elderly, considered to be in the high-risk category, or have underlying health concerns. If you have special concerns you are encouraged to contact the Director at information@jenkinsons.com.
Masks: Everyone over the age of 2 will be required to wear a mask that covers their nose and mouth. If you don't have a mask you will be able to purchase one in our giftshop.
One-Way Traffic: Guests will be asked to travel through the aquarium in a one-way pattern to maintain constant one-directional flow throughout the facility. Signage and physical barriers will help assist guests throughout the aquarium to recognize safe social distancing from other visitors in gathering areas such as popular exhibits. Groups will be limited to no more than 8 people.
Social Distancing: Guests are encouraged to be aware of other visitors by maintaining a safe social distance and are asked to touch as little as possible during their visit for their own safety.
Cleaning & Sanitation: The aquarium has increased the frequency of deep, daily cleaning and sanitization throughout the aquarium, with a focus on high-touch surfaces, railings and benches. Before, during and after your visit, wash your hands regularly using soap and water, following CDC best practices. Between washing, please use the numerous hand-sanitizing stations that have been installed around the aquarium. These stations will be monitored continuously for refilling needs. Avoid touching your eyes, nose or mouth with unwashed hands.
Aquarium Operation Updates: At this time touch experiences will be unavailable. All published animal feeding times, keeper chats, animal encounters, on-site education programs & behind the scenes tours have been suspended. Virtual programs are available through our Education Department at education@jenkinsons.com. If you are interested in ordering a Camp in a Box please contact jenksaqcamps@gmail.com.
Restrooms: Restrooms in the aquarium will be open to visitors. They will be cleaned frequently using the recommended guidelines from the CDC.  Water fountains will not be available at this time.
Aquarium Staff: Staff will undergo temperature checks before they begin work and all will wear masks.
Animal Updates: At this time Wally will not be out on exhibit or out for chats but you can keep up with him on our Facebook: https://www.facebook.com/jenksaquarium/
Jenkinson's Aquarium reserves the right to deny access to our facility if anyone refuses to participate in these regulations at any time during their visit. By visiting Jenkinson's Aquarium you voluntarily assume all risks related to exposure to Covid-19.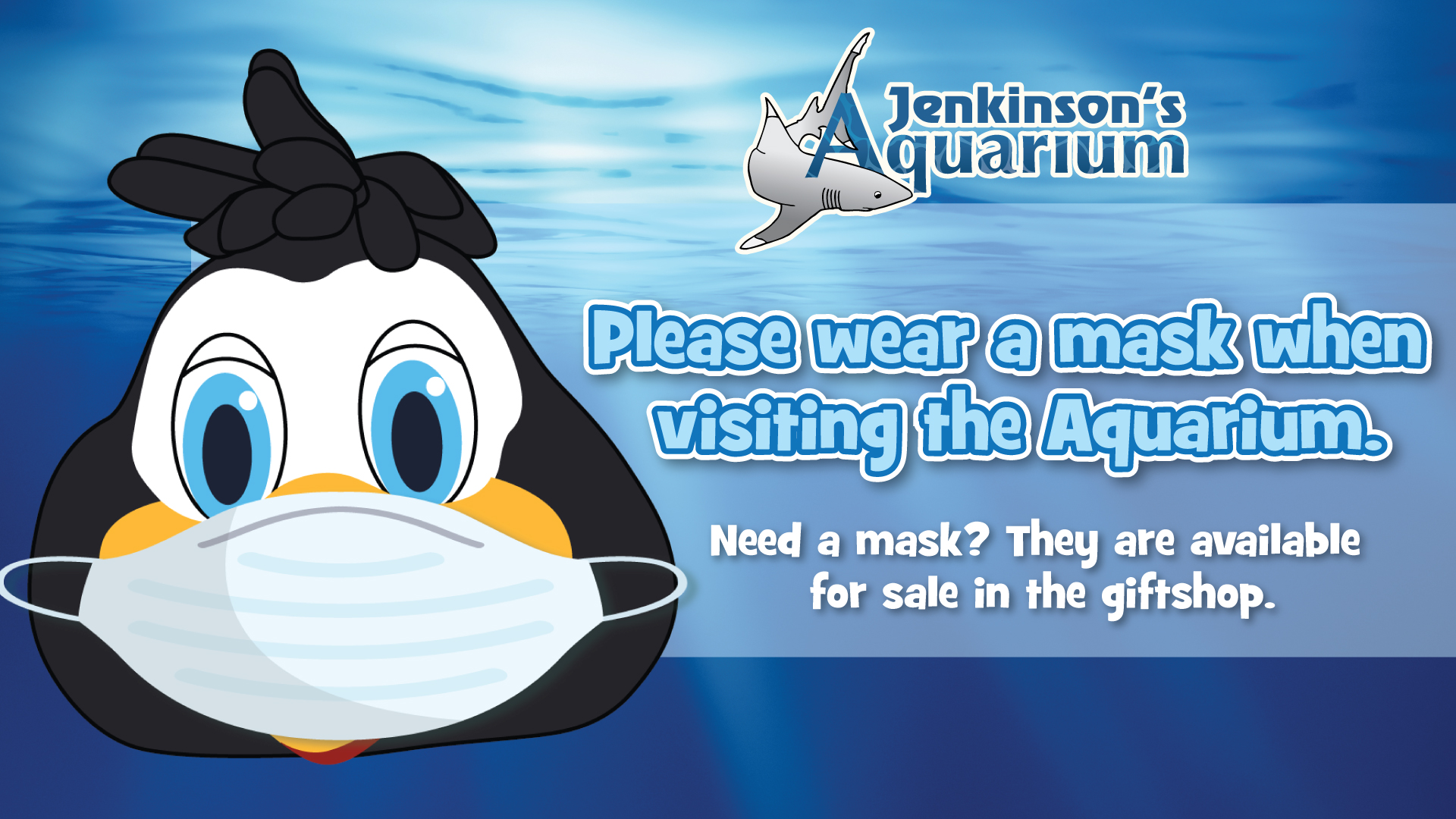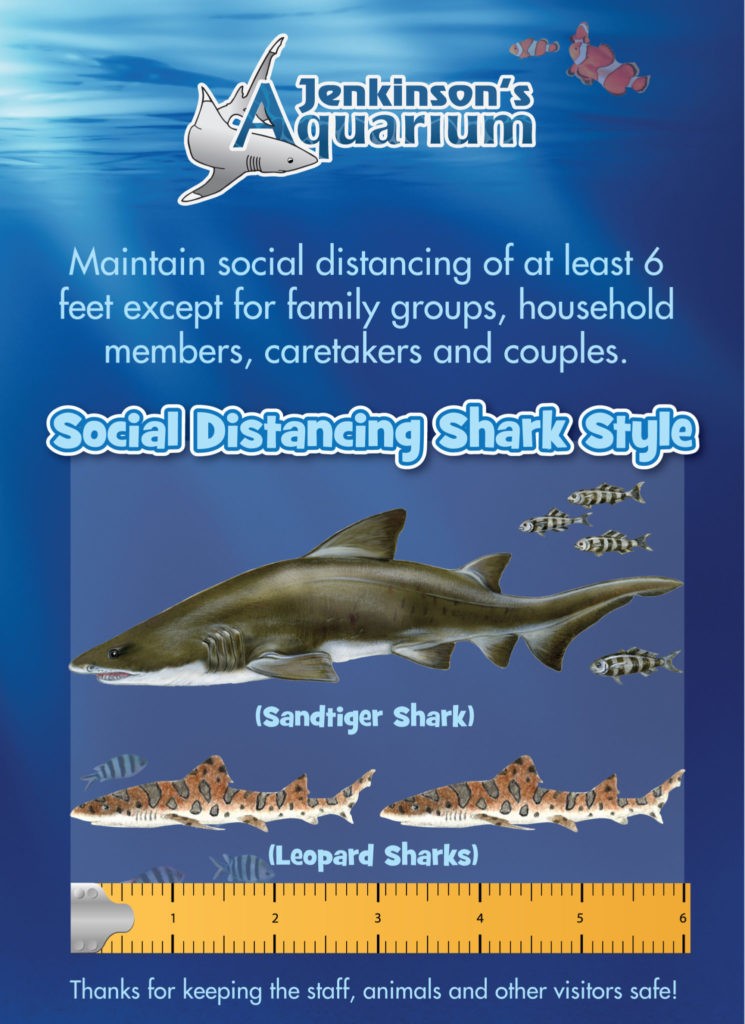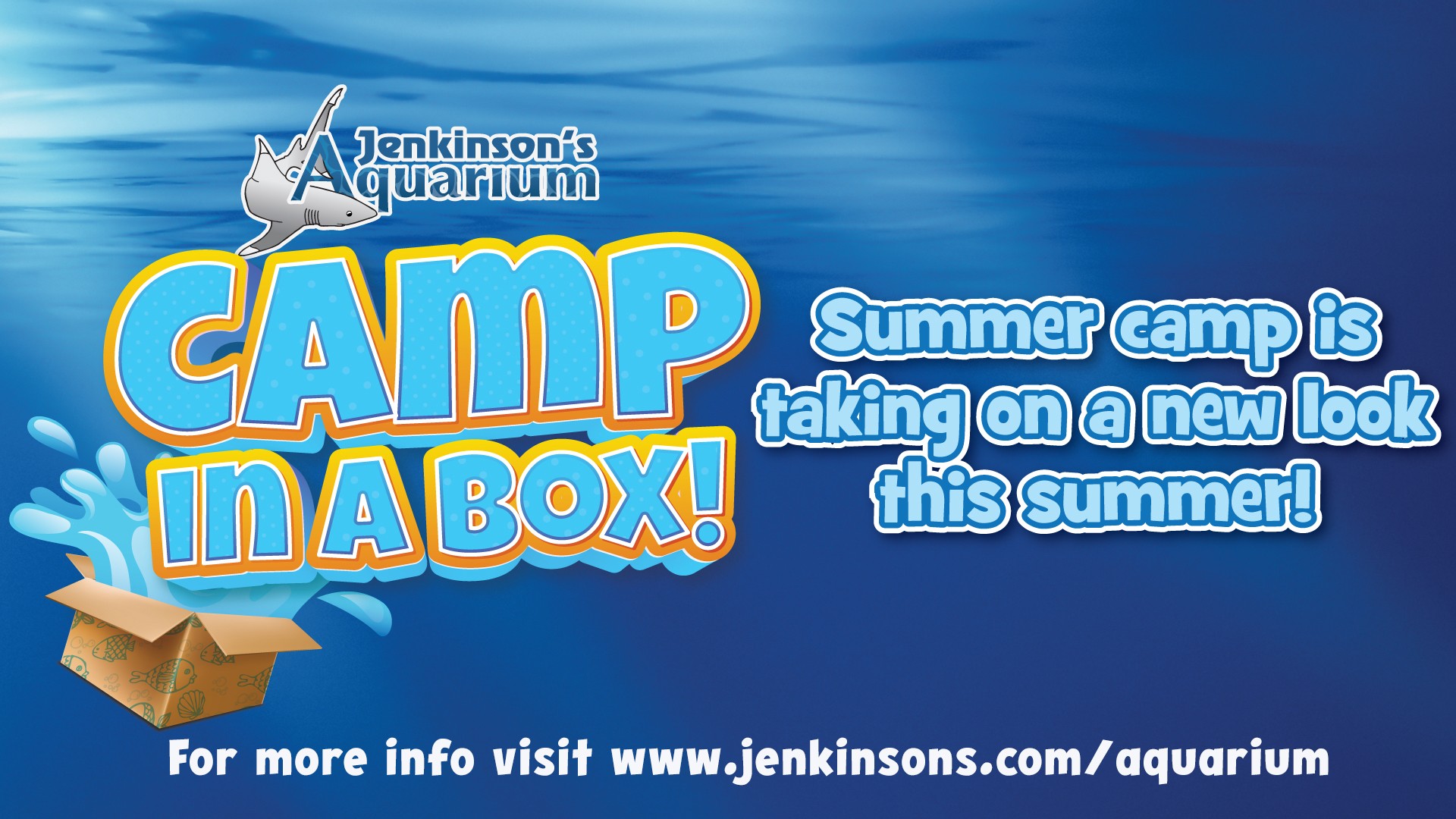 We can't be together in-person for camp this summer, but the Jenkinson's Aquarium Camp in a Box contains some of our very favorite camp activities and crafts!
Also included is online access to a pre-recorded program for the theme you choose. Join an aquarium interpreter as they tell you about amazing animals, their habitats and more. Campers will also get an invite mailed to them for a live virtual visit with our ambassador animals on select days.
These boxes can be picked up curbside or mailed to you (at an additional cost). Some supplies such as glue, scissors, markers or crayons are not included. Some activities may require adult supervision.
To purchase a Camp in a Box call 732-899-1659 (Extension 131) or email at jenksaqcamps@gmail.com.
Cost: $100 per box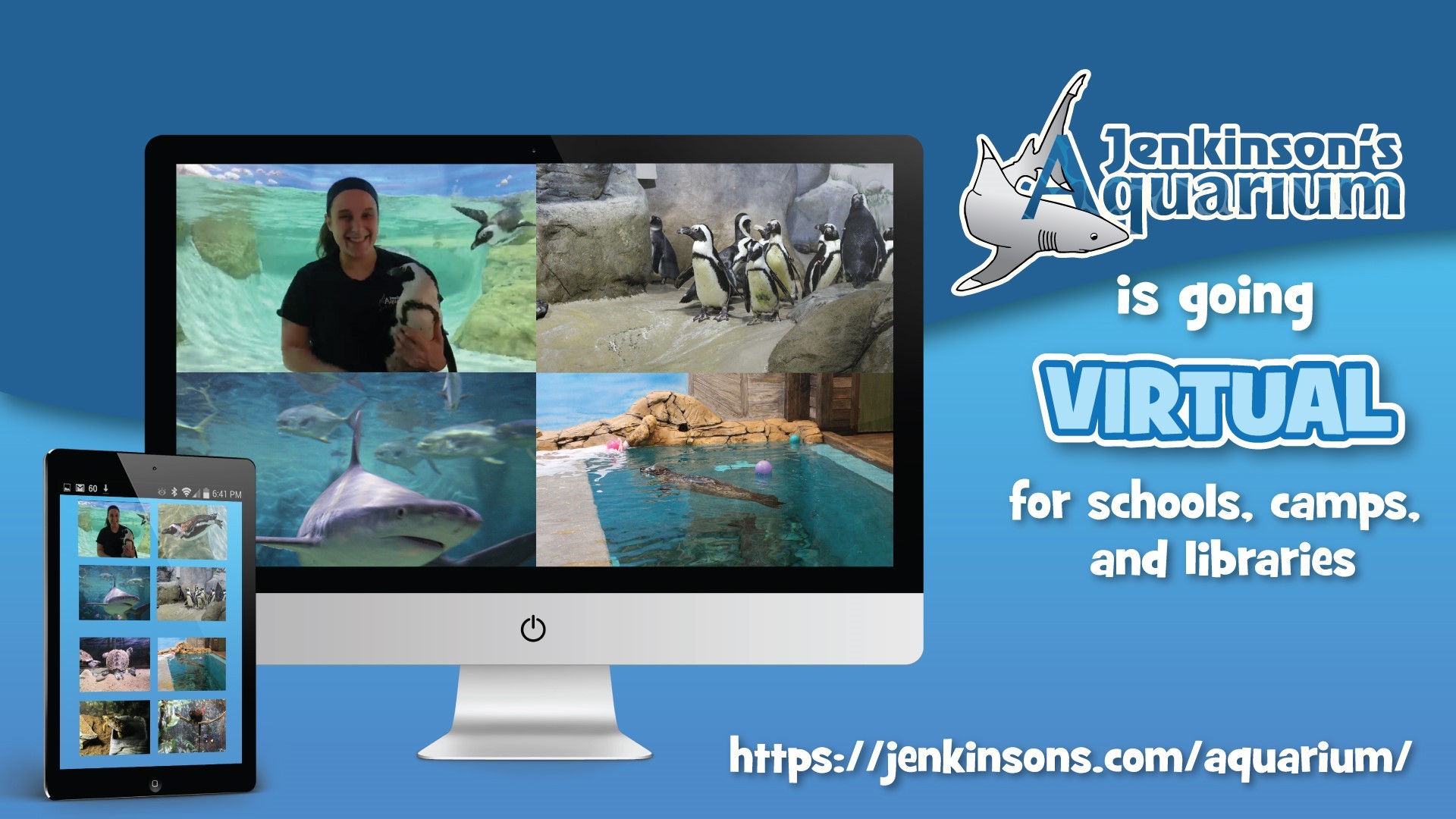 Jenkinson's Aquarium is going virtual for schools, camps, and libraries! All educational programs are adapted to the appropriate grade level and support the New Jersey Core Curriculum Content Standards.
The programs currently being offered are: Penguin Pointers, Parrot Palooza, Outrageous Reptiles, No Bones About It, NJ's Precious Pinelands, and Sloth Safari.
The cost for one 45-minute program is $150.00 which includes an environmental conservation component, live animal ambassador, and time for questions.  For additional information or if you would like to book a virtual program, please contact our Education Coordinator at education@jenkinsons.com or 732.899.1659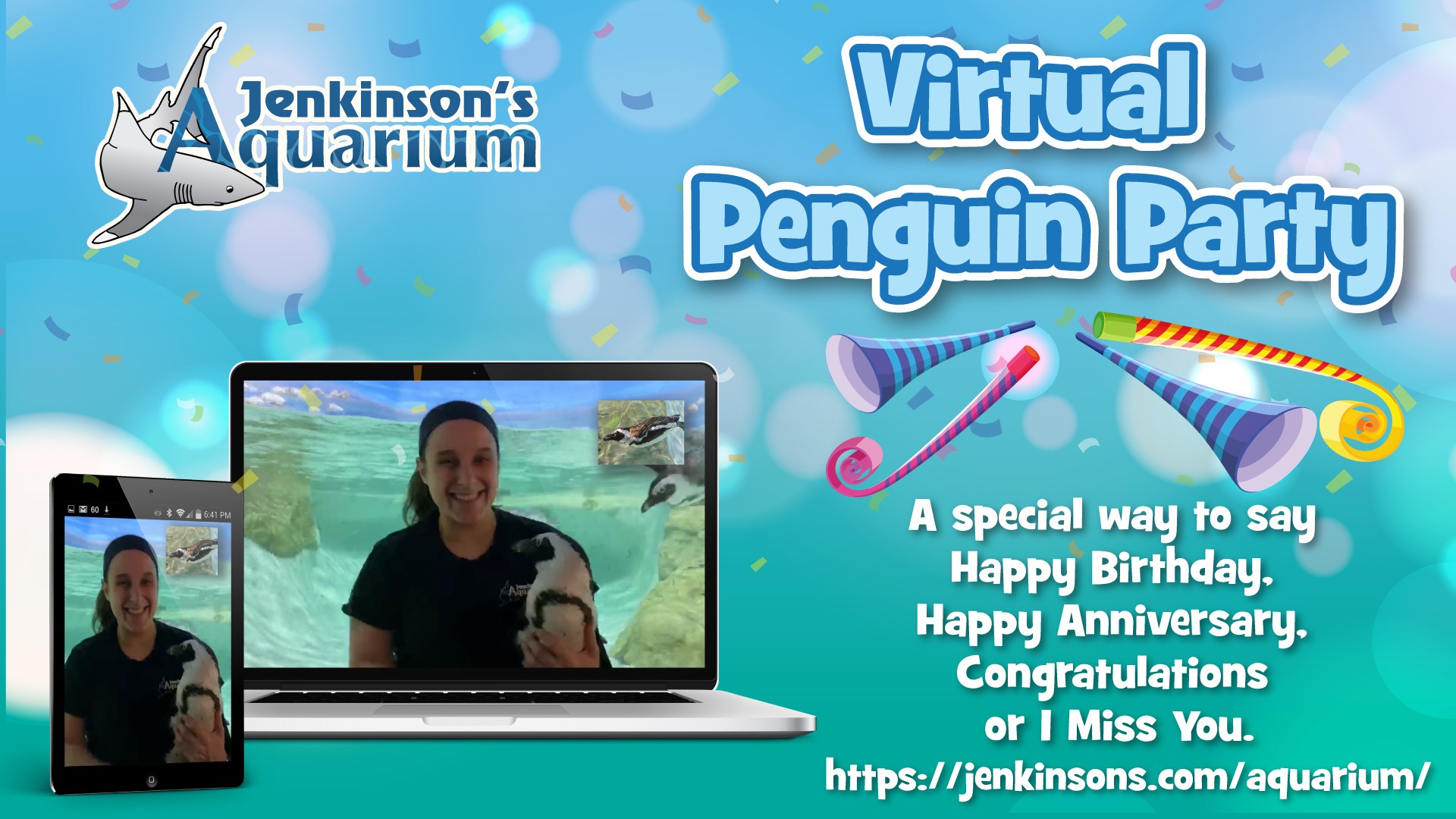 Are you looking for a special way to say "Happy Birthday", "Happy Anniversary", "Congratulations", or "I Miss You" during this time of social distancing? Have a virtual Penguin Party from Jenkinson's Aquarium!
The cost is $35 for a 15 minute call and must be paid in advance. For additional information or if you would like to book a virtual chat, please contact our Education Coordinator at education@jenkinsons.com or 732.899.1659